• Published Jun 25th, 2013 with 16299 gameplays
Platforms:
If you are a great fan of The Simpsons, then you will definitely love that you can play this online game. In it, you play as Bart, who is imprisoned in the school. Your task will therefore be to go through the rooms, talk to people and collect useful items that can be used at the right time.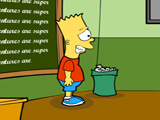 90% 4.1k plays
Published : Jun 18th, 2011 FlashBart is at the school alone with the character from horror movie Saw, and you mu...

93% 16.2k plays
Published : Jun 25th, 2013 FlashHelp Bart to escape from school, where he was imprisoned by his enemy.