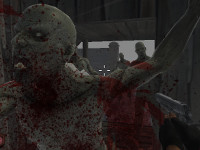 • Published Sep 27th, 2015 with 8791 gameplays
Platforms:
Controls :
Mouse = aiming and shooting, WASD = movement, E = buying a weapon, R = reload
In this cool 3D shooting game with crazy battles against your zombie enemies, you won't be able to rest for even a second. It is important to kill them as quickly as possible and also to buy many new weapons. The game takes palce in a building which you must protect at all costs. Weapons are placed all around the building so you can choose from them.