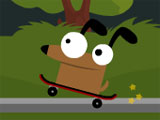 • Published Jul 3rd, 2011 with 3598 gameplays
Platforms:
Controls :
movement: arrows, tricks - the space bar, Z / ​​Y, X, C, V, B
Your task is to go as far as possible with this lovely little dog on a skateboard. Try to do various tricks. The greater the difficulty, the more points you get.