• Published Sep 30th, 2015 with 239039 gameplays
Platforms:
Controls :
mouse, WASD = movement, space bar = jump, E = enter the vehicle, Shift = sprint, 1-3 = change weapon, R = recharge, C = get down, M = menu, I = inventary
Red Crucible: Reloaded is another interesting 3D shooter. It is an upgraded version of Red Crucible 2. This is why there will be similar maps and the overall style will be also almost the same. There are various servers with various kinds of games. You can either play without any vehicles or you can control a tank or a helicopter. It is just up to you. There will be modes like team deathmatch, playing terrorists and others. For the coins you win you will be able to buy new weapons and other items that will come in handy when fighting your enemies.

85% 3.1m plays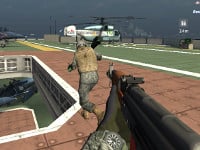 91% 239.0k plays