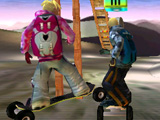 • Published Feb 20th, 2011 with 21926 gameplays
Platforms:
Controls :
movement: arrows, tricks - X, Z + arrow, bonuses - spacebar
This is the second Sewer Run game. As in the first game also here you can try 3D skateboarding races. You can perform various tricks thanks to which you will get turbo.