Canoniac Launcher 2
Warning
Adobe has blocked Flash content from running in Flash Player since January 12, 2021. The emulator is still under development, but should be completed by the end of this year.

Canoniac Launcher 2
• Published Apr 26th, 2013 with 4421 plays
Platforms:
Our robotic friend Jimmy is back again and you have to launch him so that he flies as far as possible. This time you are on a strange planet full of aliens. Of course, there will be some cool upgrades which will make it even more fun.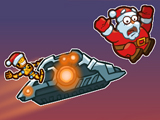 100% 4.5k plays
Published: Dec 28th, 2011 HTML5 Make the robot get as far as possible.