Flappy Bird 2
Warning
Adobe has blocked Flash content from running in Flash Player since January 12, 2021. The emulator is still under development, but should be completed by the end of this year.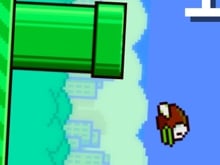 Flappy Bird 2
• Published Nov 22nd, 2015 with 6145 plays
Platforms:
Make sure this little bird jums as far as possible. Although the surroudings were static in the previous game, in this game it won't be the case. Everything will be moving and you must make sure not to hit any object. Can you to that?