Grid of Defense
Warning
Adobe has blocked Flash content from running in Flash Player since January 12, 2021. The emulator is still under development, but should be completed by the end of this year.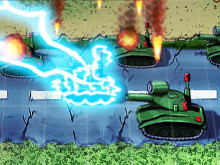 Grid of Defense
• Published Apr 14th, 2016 with 6870 plays
Platforms:
Your enemy's tanks will destroy everything in their way. Their ultimate goal is to destroy your base. There is no time to ask your allies for help. You have to manage everything on your own so start building various bunkers and hangars by the road. Create new soldiers and military vehicles and eventually you can launch airstrikes.