Pocket Starships
Warning
Adobe has blocked Flash content from running in Flash Player since January 12, 2021. The emulator is still under development, but should be completed by the end of this year.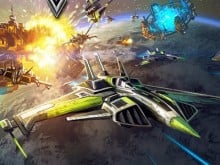 Pocket Starships
• Published Apr 20th, 2014 with 8655 plays
Controls:
Mouse

shooting

Up




Left

Down

Right

navigation
Really extensive game in which you attack against several enemies. Try to destroy them all and be very careful. Follow all instructions that this game gives you. Protect yourself!