Santa's Snow Rush
Warning
Adobe has blocked Flash content from running in Flash Player since January 12, 2021. The emulator is still under development, but should be completed by the end of this year.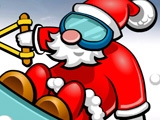 Santa's Snow Rush
• Published Dec 23rd, 2011 with 5372 plays
Platforms:
Get on your snowboard, grab the rope and let the reindeer pull your snowboard. Try to collect as many Christmas presents as possible. Be careful, there are some bombs.