Tower Breaker 3 Valerius Vengeance
Warning
Adobe has blocked Flash content from running in Flash Player since January 12, 2021. The emulator is still under development, but should be completed by the end of this year.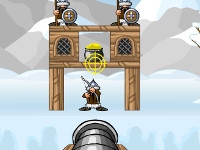 Tower Breaker 3 Valerius Vengeance
• Published Jun 4th, 2015 with 4223 plays
Platforms:
Controls:
Mouse = interaction
Your task is to fire the cannon and destroy all the objects. The game is done really well and so you will be able to see the breaking objects and you will also be able to improve your cannon. In this game there will be some dialogues.