Traffic Slam Arena

Traffic Slam Arena
• Published Jun 8th, 2013 with 135347 views
Platforms:
Controls:
movement - arrow keys, nitro - X, brake - space, rear view - Z
And here's another quality sequel of Traffic Slam, in which, this time, you will not destroy traffic. Your task is to destroy the other riders in the arena and in addition also do various tasks, such as earning enough money, to destroy the building and so on. For money you can buy various improvements, which will help you in your insane ride.

92% 56.6k plays
Published: Nov 18th, 2012 Flash Drive a car and destroy as many things as possible within the time limit.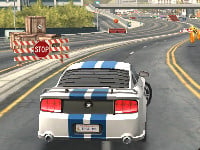 99% 1.4m plays
Published: Jan 22nd, 2013 Unity3D In the great new Traffic Slam you will have to destroy the whole city.