Become a Youtuber and get more views for your video
If you want to become a Youtuber and gain a few fans and a few thousand views on the way, GameFlare has a great offer for you.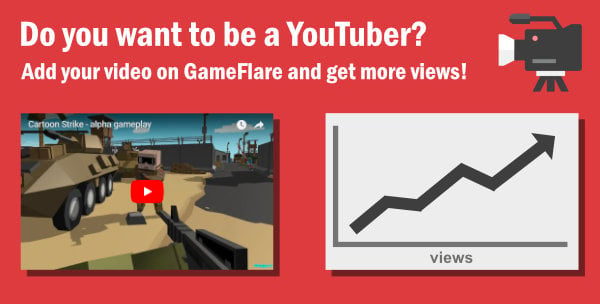 All you have to do is upload a video from an online game that you've played and add a link to GameFlare in the video description. The video can then be added to our web and after being approved it will be visible to all of the GameFlare players.
The video should ideally be of a game played on our webpage, but it's not a requirement. After that you have a bigger chance of your video gaining views.
It's rather simple:
* Upload your video to YouTube or other video portals
* Put a link to GameFlare in the description. You can simply copy the url address and paste it into the text under the video – e.g. https://www.gameflare.com or an address for a specific game – e.g. https://www.gameflare.com/online-game/cartoon-strike/
* You need a GameFlare account to add the video. If you don't have one, simply register here.
* After that, go to User Settings (click your avatar in the upper right corner) and click Add Video.
* Put in information about your video – e.g. name, description, link to video – for instance https://www.youtube.com/watch?v=ko-4ZqiDfjU
* After submitting the video, you just have to wait for the mods to approve it. After its approval, your video will be put into the Videos section.
You will then gain a number of new fans and thousands of views. If you have any problems or any questions, you can go to our
forum
.
For those who don't know how to take videos from a game, here's a
simple guide
.
Comments