asad saleem
Dashboard Menu
Registration: Apr 20th, 2015
Games played: 3
Number of comments: 1
Last played
81% 74.4k plays
Published: Jul 14th, 2014 Flash Make a really beautiful zoo in this unique game.

93% 3.1k plays
Published: Apr 9th, 2015 Flash The hero has no idea where he is. His head hurts him terribly. He knows he must get away from here.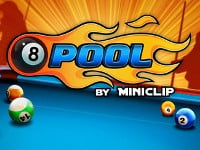 95% 9.5m plays
Published: Dec 18th, 2012 HTML5 Play Pool with players from around the world.
You do not have any news.