Avalancher
Warning
Adobe has blocked Flash content from running in Flash Player since January 12, 2021. The emulator is still under development, but should be completed by the end of this year.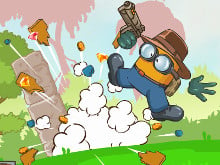 Avalancher
• Published Mar 1st, 2016 with 3967 plays
Platforms:
Controls:
W




A

S

D

movement

Mouse

shooting
Help your character collect gold and try to upgrade your weapon. At first, you have to no weapon at all. Blow up various buildings and take as much treasure as you can. It is important you get one, two or, ideally, three stars. This game offers you many different levels.