Bad Eggs Online
Warning
Adobe has blocked Flash content from running in Flash Player since January 12, 2021. The emulator is still under development, but should be completed by the end of this year.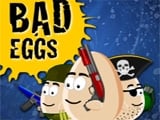 Bad Eggs Online
• Published Nov 10th, 2011 with 10971 plays
Platforms:
Controls:
movement: W, A, S, D, aim - arrow keys, shooting - the space bar
Truly sophisticated multiplayer online game in the Worms style, in which you connect and play with real players. At the beginning, you are divided into two teams, and players take turns shooting. Your task is to kill them all, so start now!