Battle Stance Human Campaign
Warning
Adobe has blocked Flash content from running in Flash Player since January 12, 2021. The emulator is still under development, but should be completed by the end of this year.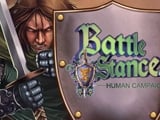 Battle Stance Human Campaign
• Published Aug 7th, 2011 with 4677 plays
Platforms:
Controls:
the mouse, move on the map - W, A, S, D
This is a great strategy game in which you try to defend your castle against enemy troops. Place the troops in different places, because the enemy can appear anywhere.