Bazookitty
Warning
Adobe has blocked Flash content from running in Flash Player since January 12, 2021. The emulator is still under development, but should be completed by the end of this year.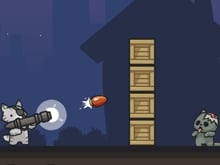 Bazookitty
• Published Oct 24th, 2015 with 5610 plays
Controls:
Mouse = shooting with the bazooka
In today's game you help a little cat against zombie cats. An asteroid has hit the Earth. Togehter with your cat you must protect what is left on our planet. The asteroid caused everyone to become zombie cats. This game brings 30 difficult levels.