Castle Wars 3
Warning
Adobe has blocked Flash content from running in Flash Player since January 12, 2021. The emulator is still under development, but should be completed by the end of this year.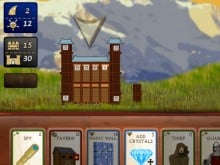 Castle Wars 3
• Published May 15th, 2017 with 15138 plays
Platforms:
The game is quite similar to hearthstone but it is simpler in many areas. The game has a campaign mode where you'll be unlocking new cards and rewards. You can also try out the multiplayer mode where you can play against real players. Test your skills and become the best player in town!