Catch The Candy

Catch The Candy
• Published Jul 21st, 2011 with 3944 plays
Platforms:
Help this purple creature get to the sweet candy. For this you use the tentacle that can stick to almost anything.

80% 4.9k plays
Published: Oct 9th, 2011 Flash In the game Catch The Candy Mech a small purple creature is trying to catch the...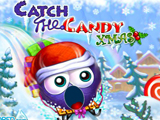 100% 5.8k plays
Published: Dec 23rd, 2011 Flash Get the purple monster to the finish line.


75% 5.6k plays
Published: Oct 25th, 2012 Flash Help this little creature get to the candy.