Catch the Crowns
Warning
Adobe has blocked Flash content from running in Flash Player since January 12, 2021. The emulator is still under development, but should be completed by the end of this year.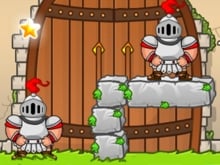 Catch the Crowns
• Published Oct 5th, 2015 with 3806 plays
Platforms:
Controls:
Mouse = movement
In this game you look for ways to get the crown back. This crown has been stolen and you must find it. You don't want to disappoint your king. Deal with your enemies by throwing objects at them. Also, collect the stars to get a higher score. The game brings various levels.