Cook Tasty Cake
Warning
Adobe has blocked Flash content from running in Flash Player since January 12, 2021. The emulator is still under development, but should be completed by the end of this year.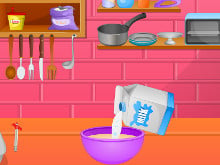 Cook Tasty Cake
• Published Mar 13th, 2016 with 12018 plays
This game will teach you how to make a really tasty cake. All the ingredients are ready so you have nothing to wait for. Now you must make sure it is a real success. Follow the instructions and learn how to make it on your own. Have fun with this online game for girls.