Crash Bandicoot
Crash Bandicoot
• Published Dec 18th, 2009 with 70315 plays
Platforms:
Controls:
movement: arrows, rotation - the space bar
If you have ever had PlayStation 1, you have probably played the game Crash Bandicoot. This is the flash version. The principle is the game is the same, collect apples, lives and get through levels.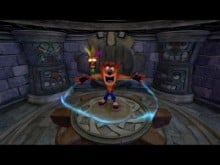 37.4k views
Crash Bandicoot N. Sane Trilogy - Crash Bandicoot 2 Hang Eight Gameplay
Published: Jun 28th, 2017 New video from remastered Crash Bandicoot 2 Hang Eight. We can not wait for this...