Cut 3D
Warning
Adobe has blocked Flash content from running in Flash Player since January 12, 2021. The emulator is still under development, but should be completed by the end of this year.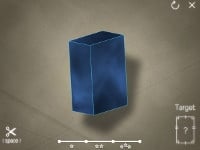 Cut 3D
• Published Aug 6th, 2015 with 4182 plays
Platforms:
Controls:
Mouse = interaction, Spacebar = cutting
There are various possibilities how to remove parts of the 3D object to create a unique 2D object. The better it is, the more stars you'll get and the higher your score will be. The game has various cool levels which require a lot of thinking. So start playing right now.