Dawn of the Sniper 2
Warning
Adobe has blocked Flash content from running in Flash Player since January 12, 2021. The emulator is still under development, but should be completed by the end of this year.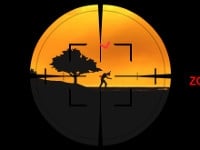 Dawn of the Sniper 2
• Published Sep 25th, 2015 with 10141 plays
Controls:
Mouse = shooting, W and S = zoom in, R = reload
In this game you become a sniper who must save mankind from the zombie monsters. Zombies were created in a lab but they started attacking people and now eveyone is in danger. Collect money and buy new weapons. You must also improve your shooting skills because without them, you can't succeed.