Dead End Street
Warning
Adobe has blocked Flash content from running in Flash Player since January 12, 2021. The emulator is still under development, but should be completed by the end of this year.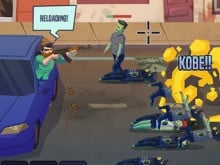 Dead End Street
• Published Jun 30th, 2016 with 6714 plays
Platforms:
Controls:
Mouse

shooting

1

||

2

||

3

change weapon
Zombies are attacking and you must protect your wife and unborn child. There are three basic weapons you can use. You will get money for each enemy you kill. Use the money to buy new and better weapons. You can for example get a Ak-47.