Delicious Emily's Hopes & Fears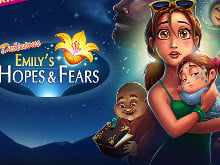 Delicious Emily's Hopes & Fears
• Published Mar 28th, 2016 with 13868 plays
Serve your customers and try to make sure your business is making profit. It won't be easy because running a business is a really challenging thing. Sell food and drinks and earn enough money for your shop. What are you waiting for? There is a lot of work to be done! The game is in HTML5 so you can play it on your mobile phone or tablet.
83% 18.8k plays
Delicious Emily's Message in a Bottle
Published: Oct 16th, 2017 HTML5 A fourth installment into this great game where you'll have to help Emily run a restaurant.