Gun Zombie Gun 2
Warning
Adobe has blocked Flash content from running in Flash Player since January 12, 2021. The emulator is still under development, but should be completed by the end of this year.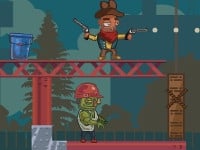 Gun Zombie Gun 2
• Published Jun 24th, 2015 with 4044 plays
Platforms:
Controls:
Mouse = interaction
In this online game you have to get rid of all the dangerous zombies. It is not easy and we know that. You have a limited number of shots and if you destroy the zombie quickly, you get a higher score. Can you kill the zombie by only shooting once?