Heads Arena: Euro Soccer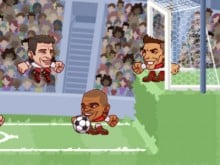 Heads Arena: Euro Soccer
• Published Jun 4th, 2016 with 7787 plays
Controls:
Up




Left

Down

Right

movement

Spacebar

shooting
Today you can enter the Soccer Head Arena. Use your head to score a goal. Using your legs is possible but the goals are so high, using your head will be easier. Try the game for two players which will be much more fun than just playing against the computer. The games take place in a small arena so everything happens rather quickly.
Heads Arena: Euro Soccer
made playable by Poki.