Hello Kitty Face Painting
Warning
Adobe has blocked Flash content from running in Flash Player since January 12, 2021. The emulator is still under development, but should be completed by the end of this year.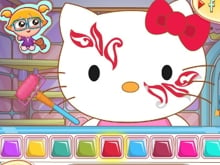 Hello Kitty Face Painting
• Published Nov 27th, 2015 with 11527 plays
Platforms:
Controls:
Mouse = interaction
Today you have to help Hello Kitty get ready for a party. It will be a really cool birthday party and she needs to look great. Hello Kitty has a great idea how to paint her face. You will see how very cure she will look. This game will be enjoyed by small children.