iPirates
Warning
Adobe has blocked Flash content from running in Flash Player since January 12, 2021. The emulator is still under development, but should be completed by the end of this year.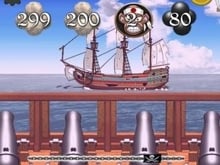 iPirates
• Published Mar 24th, 2011 with 10625 plays
Controls:
mouse, change the direction of the shot - right arrow, left arrow
Start a dangerous voyage on the sea full of pirates. Fire from the cannons and destroy all the ships around.