Just Golf
Warning
Adobe has blocked Flash content from running in Flash Player since January 12, 2021. The emulator is still under development, but should be completed by the end of this year.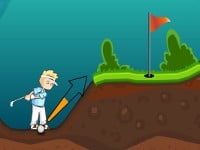 Just Golf
• Published Sep 3rd, 2015 with 5828 plays
Play today a game of golf which will be different from what you know. The terrain will not be easy because there will be some hills. The game brings a series of 36 holes and you have to get the ball into the hole using as few strokes as possible. A par is of course the best way. Can you do this? Just start playing!