League Heroes
Warning
Adobe has blocked Flash content from running in Flash Player since January 12, 2021. The emulator is still under development, but should be completed by the end of this year.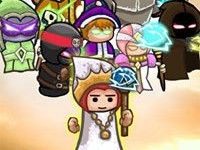 League Heroes
• Published Jul 30th, 2015 with 3442 plays
Platforms:
Controls:
WASD = movement, Arrow keys= movement
In today's online game you have to do everything possible to strategically deploy all the troops and in times of crisis use the magic of your main character. You have to protect the castle and make sure you survive all the attacks of your enemies. You can be certain that this task won't be easy.