Loot Heroes 2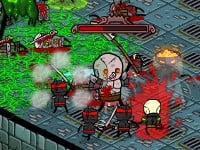 Loot Heroes 2
• Published Sep 17th, 2015 with 5813 plays
Controls:
Mouse = fight and move, Z = healing, X = mana
In today's game you cut all the monsters on your journey. First, choose the hero you want to play with and after that, make sure that you stay alive. It all takes place in hell so you must do your best in order to survive this crazy game. The game has cool graphics and playing it will be really great fun.

100% 4.9k plays
Published: Mar 17th, 2014 HTML5 You play as the green monster who must dispose of all enemies.