Mega Jurassic Parking
Warning
Adobe has blocked Flash content from running in Flash Player since January 12, 2021. The emulator is still under development, but should be completed by the end of this year.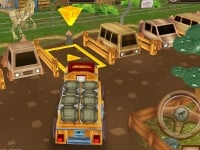 Mega Jurassic Parking
• Published Sep 24th, 2015 with 6106 plays
Platforms:
Controls:
Arrow keys = Control, Spacebar = brake
Can this online 3D game park your car at your place? This is a game that takes place in the Jurassic Park dinosaurs, but my parking spot, you always have a very difficult and most confusing place. During your journey, you must be very careful not to nevybourali. The game is crazy and funny at the same time.