Monkey Defense
Warning
Adobe has blocked Flash content from running in Flash Player since January 12, 2021. The emulator is still under development, but should be completed by the end of this year.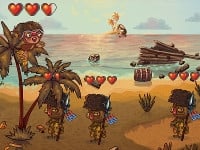 Monkey Defense
• Published Aug 5th, 2015 with 4167 plays
Platforms:
Controls:
Mouse = aiming and attack, 1 - 4 = special attack
In this game you control a monkey who has to get hold of a weapon and defent its land. It is very important to get rid of the enemies. Save your monkey and a use all the special attacks. You will have to survive 15 days and after that you will be free. The natives want to kill you and you must not let them.