Monster Truck America
Warning
Adobe has blocked Flash content from running in Flash Player since January 12, 2021. The emulator is still under development, but should be completed by the end of this year.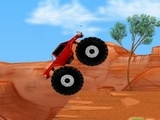 Monster Truck America
• Published Mar 25th, 2011 with 4845 plays
Platforms:
Controls:
movement: arrows, back to the checkpoint - R
Drive a monster truck in rough terrain. The faster you are, the more money you get. You can buy various things which will speed up your car.