Moto Trial Fest
Warning
Adobe has blocked Flash content from running in Flash Player since January 12, 2021. The emulator is still under development, but should be completed by the end of this year.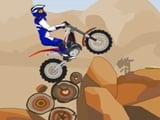 Moto Trial Fest
• Published Nov 7th, 2011 with 9393 plays
Controls:
movement: arrow keys, gas - space bar
At the beginning of the game you choose colors of the suit and of the bike. Then you go into the wilderness full of obstacles, where a hesitation can cost you the loss of the level. Time also plays a very important role, because the faster you are, the more points you get.