Motocross Nitro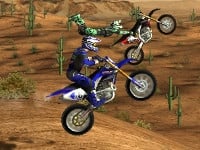 Motocross Nitro
• Published Dec 14th, 2012 with 3109608 plays
Controls:
movement: arrow keys, nitro - space bar, tricks - Z, X, C
This is a really cool 3D game in which you will enjoy riding a motorbike. In addition to the great graphics the game also offers various modes, like race, sprint or freestyle, where you show the best tricks. Can you prove to be the best one ?
In order to play, your will need
Unity Web Player
.