Nordic Kingdom
Warning
Adobe has blocked Flash content from running in Flash Player since January 12, 2021. The emulator is still under development, but should be completed by the end of this year.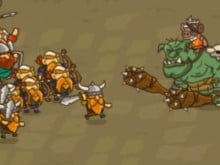 Nordic Kingdom
• Published May 3rd, 2017 with 5460 plays
Create a massive viking army, take over islands and try to do everything you can to strategically move into the mainland. Lead your army to victory and destroy your opponents. You'll have many different skills to chose from and you can also build defense towers. Find a way how to defeat all your foes and survive.