Piggy in the Puddle 3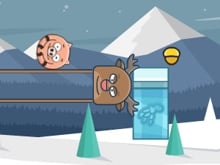 Piggy in the Puddle 3
• Published Jan 14th, 2016 with 5401 plays
Platforms:
The game Piggy in the Puddle is here for the third time. Do everything in your power to make sure the pig gets the acorns and falls into the bucket with mud. The little cat might help you by moving the puddle. You can look forward to 28 fun levels in which you have to think about when to change the pig into a rolling ball and when not.


100% 4.5k plays
Published: Mar 6th, 2014 Flash Get piggy into the bowl with mud and continue.


100% 4.3k plays
Published: Jan 26th, 2015 Flash Your task is to get a pig into mud in this puzzle game.