Police Pursuit 3D
Warning
Adobe has blocked Flash content from running in Flash Player since January 12, 2021. The emulator is still under development, but should be completed by the end of this year.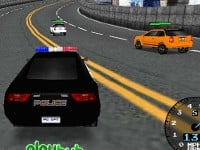 Police Pursuit 3D
• Published Jul 26th, 2015 with 14365 plays
Controls:
Arrow keys= driving, CTRL = nitro
Move around this large city and make sure you collect as many stars as possible and catch the bad guys. We believe this won't be a problem for you. This will be a crazy chase. So choose a mode, a fast car and you can start.