Radioactive Teddy Bear Zombies
Warning
Adobe has blocked Flash content from running in Flash Player since January 12, 2021. The emulator is still under development, but should be completed by the end of this year.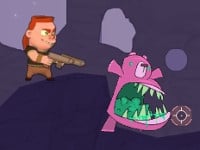 Radioactive Teddy Bear Zombies
• Published Jul 22nd, 2015 with 11714 plays
Controls:
WASD = move, Mouse = aim / shooting, E = change weapon
Today you have to save your father in this cool shooting game. You must be fearless during your dangerous journey. Move around, collect coins and try to kill the zombie animals which attack you. Start playing! You can do this.