Ringside Hero
Warning
Adobe has blocked Flash content from running in Flash Player since January 12, 2021. The emulator is still under development, but should be completed by the end of this year.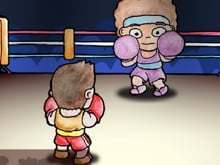 Ringside Hero
• Published Nov 24th, 2015 with 4035 plays
Platforms:
Controls:
Mouse = interaction
Your task is to train the boxer as best you can. It won't be easy because you never know who he will have to face. Focus of power as well as technique and stamina which will be of great importance. When your opponent gets tired, you'll have a chance to knock him out and win means to buy new improvements.