Rob And Aliens
Warning
Adobe has blocked Flash content from running in Flash Player since January 12, 2021. The emulator is still under development, but should be completed by the end of this year.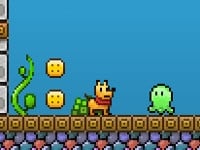 Rob And Aliens
• Published Aug 6th, 2015 with 12826 plays
Controls:
Arrow keys = movement, Down arrow key = barking
Bark has to kill aliens and collect bones which give him energy, and cookies thanks to which you earn points. Let's play and make sure Bark stays alive and the aliens get killed. Can you do this even though there are so many difficulties?