Samurai Panda 2
Warning
Adobe has blocked Flash content from running in Flash Player since January 12, 2021. The emulator is still under development, but should be completed by the end of this year.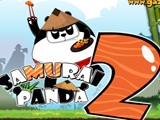 Samurai Panda 2
• Published Nov 17th, 2011 with 3959 plays
Platforms:
In this game you make the panda fly through the air. The more difficult thing is that you have to collect fruit and keys, which are located nearby. To progress to the next next level you need all the keys, so try.