Saving Little Alien
Warning
Adobe has blocked Flash content from running in Flash Player since January 12, 2021. The emulator is still under development, but should be completed by the end of this year.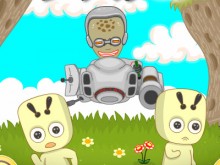 Saving Little Alien
• Published May 26th, 2016 with 3832 plays
Platforms:
In each of the 25 levels you have to protect your little alien. Draw an object that will protect him from any shooting that will come. The enemy mustn't get to your little alien. You must do everything in your power to protect him. Will you manage to do this? Try and see for yourself!