Snoring 2 Wild West
Warning
Adobe has blocked Flash content from running in Flash Player since January 12, 2021. The emulator is still under development, but should be completed by the end of this year.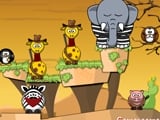 Snoring 2 Wild West
• Published Dec 14th, 2011 with 6458 plays
Platforms:
In this logical game each animal makes a different movement. Your task is to use it correctly and awaken the sleeping elephant. Do your best because time is also important.