Strategic Tic-Tac-Toe
Warning
Adobe has blocked Flash content from running in Flash Player since January 12, 2021. The emulator is still under development, but should be completed by the end of this year.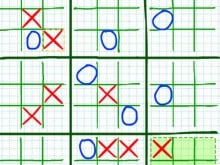 Strategic Tic-Tac-Toe
• Published May 11th, 2016 with 7207 plays
If you have ever played tic-tac-toe with your friends, this game won't surprise you. All you have to do is put your symbols next to each other. It's more fun to play against a friend than against the computer, so invite a friend to play with you and have fun!