Super Drift 3
Warning
Adobe has blocked Flash content from running in Flash Player since January 12, 2021. The emulator is still under development, but should be completed by the end of this year.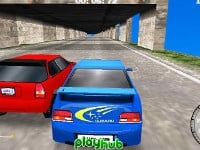 Super Drift 3
• Published May 30th, 2015 with 8228 plays
Platforms:
Controls:
Arrow keys = driving
This is the third Super Drift game which offers simple 3D graphics and races which are great fun. You can choose from two modes - you can either play against another racer or you can try to have the best time. You can also choose the level of difficulty. Just train a little and you will manage even the expert level.